2021.04.28
A rose bud that came first
A rose bud that came first.
This year, cherry trees blossomed and went in the blink of an eye. Anyway, under the influence of new corona virus, it would be hardly possible to enjoy the full bloom of cherry flower to one's heart's content.
Now, I am looking forward to the blooming of rose buds all at once in my garden.
In this situation, one bud has already bloomed into a matured red rose flower.
All the other buds would boo the flier, but it is very much welcoming to the one who waits.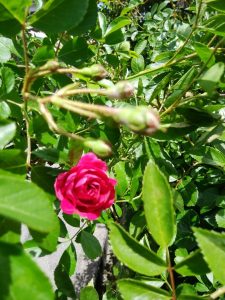 Kobe Ashiya Serviced Apartment MIMILOCCO Top page
---