2021.05.15
Pulling weeds
It's been getting warmer and warmer lately.
Well, I'll talk about struggling with weeds.
As you go straight to the building of Mimilocco and at the end, there is a park filled of greens and beautiful flowers.
Always, one lovely person has taken good care of those flowers. 🌼
And also, all Mimilocco staffs work together to create a comfortable green environment by watering, pulling weeds, and cleaning.
Our recent daily routine, Pulling Weeds.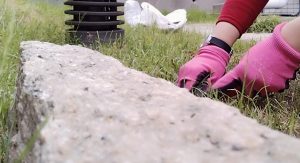 No matter how hard we pull it out, it grows back with green force. There were times when the weeds were all over the place, even though we had pulled them out yesterday…. We got tools and tried various methods to fight the weeds, but we couldn't defeat the Weed Guts of the weeds.
One day, we were talking about Weeds soul (=preserving spirit)
It that a good meaning??
From our side, all weeds are enemies. Moreover, we all hope that they won't show up. However, it might have different origin of this story.
As I looked it up, it is that
A metaphor for human as weeds that do not wither easily even in a bad environment. 
In other words,
Even in an unfortunate environment, you can crawl up with a strong will and energy.
Indeed, there are weeds growing through small cracks in the concrete.
Knowing  the strength and vitality of the weed spirit made me want to support it somehow. 😆
However, on the other hand, I earnestly hope that they don't grow back! since I realize how hard it is to pull weeds.
I want to be a person who has a strong will like weeds, who has energy that no one can stop me like weeds.
Kobe Ashiya Serviced Apartment MIMILOCCO Top Page
---