2022.01.20
Tour flower spots in Hokaido
Touring flower spots in Hokkaido
Part 3
The last leg of my touring flower spots in Hokkaido is Kamiyubetsu tulip park, which is located at the Sea of Okhotsk laying north-east of Hokkaido.
According to a guide book, the total area of the park is 12.5 hectares, and the 700,000 bulbs of tulip are planted in 7 hectares of it. Blooming season is late May because of the cool climate of the Sea of Okhotsk.
I visited there late May. I could see a vast and expanding land covered with full-blown tulip as far as I could see. Yoshino in Nara prefecture is famous for a vast number of cherry blossom trees at a glance, and Kamiyubetsu really is a place where a vast number of tulip flowers could be seen at a glance. The scenery was simply overwhelming.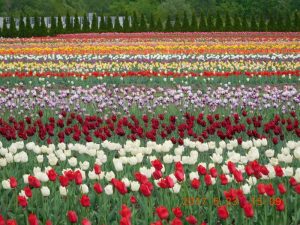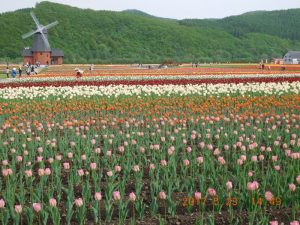 Kobe Ashiya Serviced Apartment MIMILOCCO Top page
---