2022.05.15
Tulips are blooming
Tulips are blooming
It is a story which is more than a half century ago. When I entered an elementary school, we used to sing a tulip song.
The colors of tulip are sung as red, white, and yellow.
I recalled the song when I saw the tulips of red, white, and yellow colors in my garden.
But, my lingering memory with tulip is painting, not singing.
Our teacher told us to paint the tulip with any of our favorite colors.
The other pupils were painting with a red, white, or yellow crayons.
But it was quite hard for me to pick out the color as I had not seen tulip so far.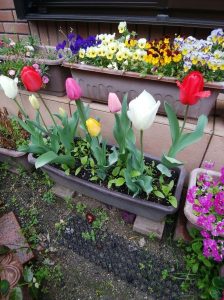 Finally, I did not know why, I painted the tulip with a black crayon, of all others.
Kobe Ashiya Serviced Apartment MIMILOCCO Top Page
---