2022.12.21
Being relieved at the play by Nature
In the middle of November, my wife and I went to Kyoto, looking for colored maple leaves. We were driving for Takao, renowned nation-wide for colored maple leaves, which I came to know its name far more than half a century ago, from the commercial film made for a color TV set. We took Arashiyama-Takao parkway on which I had been longing to drive. The scenery along the parkway was covered with well colored maple leaves, which made us happy enough.
We planned to park our car in the parking lot at the end of the parkway, and walk to Jingoji temple as our primary purpose on this little trip was to visit the temple,
However, before we enjoy a natural masterpiece of painting at Jingoji temple, we happened to come across to a play by nature. Though we felt that it was a bit artificial, it was an appropriate photographic subject for colored leaves viewing.
The happy encounter made us feel high-spirited and vigorous for the hectic walk on the long and steep slopes up and down to Jingoji temple.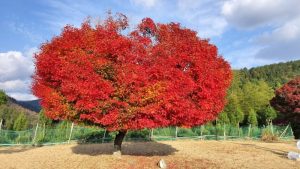 Kobe Ashiya Serviced Apartment MIMILOCCO Top Page
---