2021.08.30
Our bed time routine
Just another day to go and August is over. Schools have already started and it should have been a short summer for the kids.
My pets appear in my blog most of the time, as you can see. When bed time arrives, dog and the older cat sleep with me. And, the younger cat with my daughter.
This little one is such a carefree kitty that we always have to go through a hide-and-seek routine before going to bed.
It was a big surprise when we found her in the washing machine once!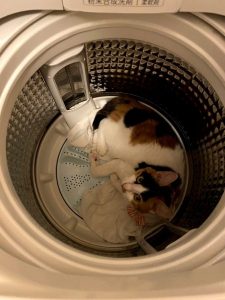 Kobe Ashiya Serviced Apartment MIMILOCCO Top page
---