2021.11.11
Yellow blossom festival in Takikawa city
Touring flower spots in Hokkaido
Part 2
After the pink moss in Higashi Mokoto, the second one is about the yellow blossoms in Takikawa city.
Talking of Takikawa city, it is also known that the longest straight part of the national road No.12 stretches from Bibai city to Takikawa city, north of Sapporo city.
I visited there in the middle of May, 2017, when the hustle and bustle of "Golden week" was gone and there was no crowded traffic or road. Furthermore, no one has ever thought of Covid-19 would bring us disastrous days.
I started from New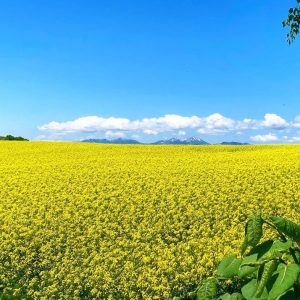 airport by a rent-a-car to arrive at the yellow blossom festival square, where I parked my car and took a taxi at a reasonable price. The taxi driver also plays a roll of guide.
Takikawa city boasts that it has won laurels many times as the largest planted area of yellow blossom. Cruising on the taxi among the enormous land of yellow blossom, with taking photos at a scenic spot by spot on the way. Before long, we have come to the main venue of yellow blossom festival. I climbed up to the lookout tower there to see a stunning yellow color stretching as far as I could see.
I fully enjoyed the yellow world which made my feeling lighter and brighter. It is an experience that I would like to talk to every person I meet.
Note) The photo used here is provided by the courtesy of Takikawa city.
---